Sundbom, Chester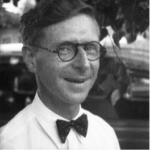 Brother Chester A. Sundbom was brought to a knowledge of Present Truth during World War I by a co-worker in Detroit, Michigan, named Brother Will Marsh, who told Brother Chester that the war was prophesied in the Bible. Since Brother Chester did not own a Bible, he immediately went out to purchase one, and his acquaintance with the Divine Plan developed.
For more information on Br Sundbom and other biographical sketches of  brethren who have entered into their reward click on the following link:
http://www.biblestudentarchives.com/documents/Biographies.pdf
Chester Sundbom - January 1, 1970
Bible Hope for the Unsaved Dead (Public)
More Messages from Chester Sundbom...
| | | | | | |
| --- | --- | --- | --- | --- | --- |
| Bible Hope for the Unsaved Dead (Public) | Chester Sundbom | January 1, 1970 | | | Listen |
| Incense from the Golden Altar | Chester Sundbom | August 7, 2016 | | | Listen |
| We That Are Alive and Remain | Chester Sundbom | August 7, 2016 | | | Listen |
| Humility and Zeal | Chester Sundbom | August 7, 2016 | | | Listen |
| Humbleness of Mind | Chester Sundbom | August 7, 2016 | | | Listen |
| Guided In Judgement | Chester Sundbom | August 7, 2016 | | | Listen |
| Gods Work in Us | Chester Sundbom | August 7, 2016 | | | Listen |
| God's Dwelling | Chester Sundbom | August 7, 2016 | | | Listen |
| Godliness with Contentment | Chester Sundbom | August 7, 2016 | | | Listen |
| God Opens the Hearing Ear | Chester Sundbom | August 7, 2016 | | | Listen |
| Exceeding Great and Precious Promises | Chester Sundbom | August 7, 2016 | | | Listen |
| Evidences of Christ's Return | Chester Sundbom | August 7, 2016 | | | Listen |
| Curiously Wrought in the Lowest Parts of the Earth | Chester Sundbom | August 7, 2016 | | | Listen |
| Crucified with Christ Gal 2:20 | Chester Sundbom | August 7, 2016 | | | Listen |
| Courage | Chester Sundbom | August 7, 2016 | | | Listen |
| Compassionate Priests | Chester Sundbom | August 7, 2016 | | | Listen |
| Buried With Christ In Baptism | Chester Sundbom | August 7, 2016 | | | Listen |
| According to thy Faith | Chester Sundbom | August 7, 2016 | | | Listen |
| A Mind Stayed On Thee | Chester Sundbom | August 7, 2016 | | | Listen |
| A Conscience Void of Offence | Chester Sundbom | August 7, 2016 | | | Listen |
| When Our Obedience is Fulfilled | Chester Sundbom | August 7, 2016 | | | Listen |
| Jesus at Gods Right Hand | Chester Sundbom | August 7, 2016 | | | Listen |
| Trump of God | Chester Sundbom | August 7, 2016 | | | Listen |
| The Two Witnesses | Chester Sundbom | August 7, 2016 | | | Listen |
| The Two Gates | Chester Sundbom | August 7, 2016 | | | Listen |
| The Seven Last Plagues | Chester Sundbom | August 7, 2016 | | | Listen |
| The Sentence of Death in Us | Chester Sundbom | August 7, 2016 | | | Listen |
| The Sealed Book | Chester Sundbom | August 7, 2016 | | | Listen |
| The Inward Man | Chester Sundbom | August 7, 2016 | | | Listen |
| Work for a Converted Will | Chester Sundbom | August 7, 2016 | | | Listen |
| Discerning the Lord's Body | Chester Sundbom | August 7, 2016 | | | Listen |
| Strong In Faith | Chester Sundbom | August 7, 2016 | | | Listen |
| Striving Together for the Faith of the Gospel | Chester Sundbom | August 7, 2016 | | | Listen |
| Song of Moses and the Lamb | Chester Sundbom | August 7, 2016 | | | Listen |
| Satan's House Divided | Chester Sundbom | August 7, 2016 | | | Listen |
| Precious Promises | Chester Sundbom | August 7, 2016 | | | Listen |
| Our Faithful Creator | Chester Sundbom | August 7, 2016 | | | Listen |
| The Parable of the Pounds and the Talents | Chester Sundbom | February 1, 2017 | | | Listen |
| Witness of the Spirit | Chester Sundbom | February 1, 2017 | | | Listen |
| Under the Shadow of the Almighty | Chester Sundbom | February 1, 2017 | | | Listen |
| Twelve 3 16 | Chester Sundbom | February 1, 2017 | | | Listen |
| Hope For the Unsaved Dead | Chester Sundbom | February 1, 2017 | | | Listen |
| Heavenly Treasures | Chester Sundbom | February 1, 2017 | | | Listen |
| Full Assurance | Chester Sundbom | February 1, 2017 | | | Listen |
| These Little Ones Matt-18_20 | Chester Sundbom | February 1, 2017 | | | Listen |
| Angels Camped Around Us | Chester Sundbom | February 1, 2017 | | | Listen |
| Our Courage In Fighting Our Canaanites | Chester Sundbom | February 13, 2017 | | | Listen |
| The Hour of Temptation | Chester Sundbom | March 16, 2017 | | | Listen |
| Days of Noah | Chester Sundbom | March 16, 2017 | | | Listen |
| Discerning the Lord's Body | Chester Sundbom | March 16, 2017 | | | Listen |
| The Little Ones | Chester Sundbom | March 16, 2017 | | | Listen |
| Here a Little There a Little (faint) | Chester Sundbom | March 16, 2017 | | | Listen |
| The Everlasting Arms | Chester Sundbom | July 21, 2017 | | | Listen |
| The Wise Steward | Chester Sundbom | November 2, 2017 | | | Listen |
| Opportunity - Phil 4:10 | Chester Sundbom | October 8, 2018 | | | Listen |
| God's Sure Foundation | Chester Sundbom | October 18, 2018 | | | Listen |
| For Me to Live is Christ (Theme Discourse) | Chester Sundbom | May 9, 2019 | | | Listen |
| Two Witnesses - Rev. 11:3-12 | Chester Sundbom | December 13, 2019 | | | Listen |
| When Our Obedience is Fulfilled | Chester Sundbom | December 5, 2020 | | | Listen |
| Curiously Wrought in Lowest Parts of the Earth | Chester Sundbom | May 30, 2021 | | | Listen |
| The Ransom | Chester Sundbom | October 27, 2022 | | | Listen |